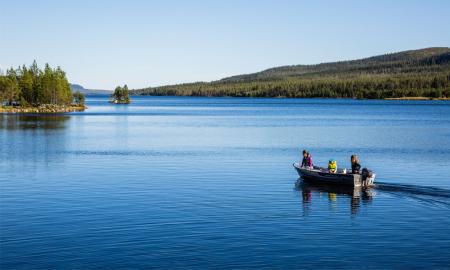 Summer
Lofsdalen is a quiet, family friendly mountain village close to Stockholm/Arlanda. Here is everything you could wish for in active and memorable holiday in the mountains. Untouched magnificent nature, combined with well maintained facilities for both summer and winter activities makes Lofsdalen to an attractive mountain destination. Here you can rent everything from a cottage in the mountains to a luxurious Lodge, and of course everything in between.
Winter
Lofsdalen is a peaceful ski resort in Härjedalen, near Stockholm, Sundsvall and Gävle, and is surrounded by snow-covered mountain peaks. Stay together in cosy cabins within walking distance to the freshly groomed ski slopes, cross country trails and restaurants. And best of all: almost certainly with no line-ups at the ski lifts. Several ski and snowmobile trails are more than 10 km long. Put on your skis and follow the ski trails up the mountain. Fix your gaze on the horizon and look out over Helags, Norway and Sonfjället National Park.
Holiday with children
Children have lots of fun at a ski holiday in Lofsdalen – there are many areas and spaces for them to play.

The ski slopes are kid-friendly and it is easy to get used to the lifts. Loffe, Lofsdalen's little blue bear cub, dances and sings with the kids. He tells them about the snow ghost and shows them how to roll like meatballs down the slopes.

In summer, the beach and child-friendly hiking trails await you. Take a break at one of many lookouts, drink some fresh mountain water directly from the source and let the children run ahead up the mountain. Take a break for some hot beverages on the sun-heated rocks and enjoy the sun that shines all night long into the wee hours.