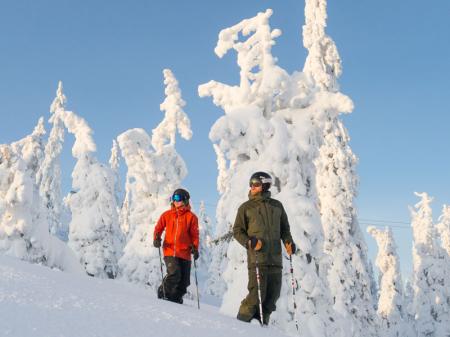 Tandådalen offers alpine skiing suited to all types of skiers.
Skiing
The skiing at Tandådalen has a slightly higher pace with tougher slopes, mostly in the area around Solliften in central Tandådalen where you'll find the majority of the ski area's black slopes. If you're looking for gentler skiing then head to the Östra and Norra ski areas where wonderful carving skiing on blue and red descents takes centre stage.
There are one large snow park in Tandådalen with lines both for the more experienced skiers, and for those who want to test park skiing for the first time. The park are located in the "Östra" ski area.
Tandådalen is linked to Hundfjället via transport lifts and with the Ski &Swim bus you can easily go from Tandådalen to Sälen's other ski areas – the bus is free for those of you who have a SkiPass.
Children's areas
There are two children's areas in Tandådalen – Tandådalstorget and Östra Tandådalstorget. These have button lifts, conveyor belts and child-friendly slopes. There are also barbecues, heated shelters and toilets in the children's areas. The adventure area Valles Skidland is located in Östra Tandådalstorget.

Facts about Tandådalen
25 lifts: 2 chairlift, 8 T-bar lifts, 11 buttonlifts, 4 conveyor belts
29 slopes: 6 green slopes, 9 blue slopes, 5 red slope, 7 black slope
2 Snow parks
2 Child areas
1 Adventure areas
Night skiing Tuesday, Thursday, Saturday, Sunday from 15.30 - 18.00